It's a Dog's Life
German Shepherds and Kuvaszok, including rescue info and lots of photos.

UNDER
CONSTRUCTION
More Good Stuff!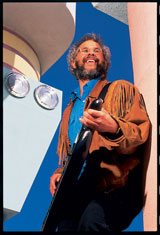 Blog (under construction)
In November 2003, my brother Larry the O and I celebrated my 50th birthday by spending three weeks in Australia. With help from our Ozzie mate Peter Freedman, we wandered around Sydney, visited wine country, and explored rainforests, deserts, and the Great Barrier Reef. We even attended the final game of the Rugby World Cup! Here's our story.
Tails of Two Seasons

in Oregon & N. California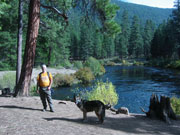 In October 2004, I took Tyler, my German Shepherd, to visit Bob and Katie Cudlin in Bend, Oregon, via the scenic route through northern California and southwestern and central Oregon. We spent ten days enjoying fabulous fall weather, hiking among mighty redwoods and along miles of rocky coastline, mountains, rivers, and lakes.
In June 2008, my Kuvasz, Attila, and I headed up Highway 101 to Florence,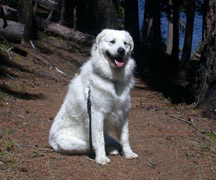 Oregon, and then eastward to Bend, with many stops along the way. We gloried in late spring weather - and traveled in a much better van! I took plenty of photos.
UNDER CONSTRUCTION