Videos

In 2005, I produced and directed a pair of instructional videos featuring Korg USA chief sound designer Jack Hotop.

Note: Adobe Flash Player 8 or later is required to play these videos.

Designing Acoustic and Electric Keyboard Sounds
Korg USA sound-design wizard Jack Hotop teaches you how to customize sampled and synthesized acoustic piano, Fender Rhodes, Hohner Clavinet, and Hammond B3 sounds.

Designing Flute, Brass, String, and Guitar Sounds
Jack Hotop teaches you how to customize sampled and synthesized flute, brass, string, and guitar sounds.
These videos appear courtesy of Penton Media. They are also available at Penton's Audio Insider Web site at www.audioinsider.net.
-----------------


A Special Holiday Message from PreSonus
Here's a fun clip! In December 2008 I wrote the script for this PreSonus holiday commercial spot featuring Randolph the Rockin' Reindeer (Rudolph's brother).
Favorite features
No Strings Attached
Watch your guitarist's jaw drop when you lay down hot six-string parts with these guitar-emulation techniques for keyboard players.

...and there's more!

More Good Stuff!


Blog (under construction)
Favorite editorials
Episode IV: A New Hope
The history of Electronic Musician and the great rebellion against the commercial-studio empire.
Lessons Dogs Have
Taught Me
Dogs have taught me many lessons that I have found useful when dealing with musicians.

Giving Back
The best way to thank your benefactors is by helping others.

Keepers of the Flame
Do your part to keep the flame of musical knowledge burning brightly.
A Clear Message
Media consolidation presents a danger to freedom of speech.
In Search of Cibola
You can accomplish something important and lasting without commercial success or public acclaim.
Contemplating a Rat's Rear
Periodically, you have to step back and ask yourself, "Who gives a rat's ass?"

When Times Get Tough
Whether you run a studio or a factory, the bottom line includes doing business in a sensible, ethical, and just way.

Pro Choice
There is no right or wrong way to record if you are willing to take risks.

Giving It All Away
If musicians won't fight for the right to determine what we charge for and what we give away, we might as well resign ourselves to sharecropping.
Interviews, Lectures, and Speeches
Interview on WAMU/NPR (Audio)
Shortly after the death of my friend Dr. Robert Moog in 2005, famed electronic musician Larry Fast, Cornell University professor Trevor Pinch, and I were interviewed on The Kojo Nnamdi Show, presented by American University's NPR-affiliate station WAMU. The topic: Robert Moog's impact on the evolution of electronic music.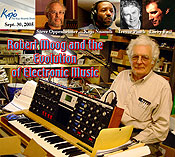 Keynote Speech,
Pyramind Graduation December 20, 2008 (Text)
Guest Lecture at Pyramind
July 18, 2007 (Audio)
Berklee Distinguished Alumnus Award Acceptance Speech, September 19, 1998 (Text)
Guest Lecture at Berklee College of Music
September 16, 1996 (Text)
Interview in TV Guide, May 6, 2002 (Text)
"Two for Tech" Interview in Berklee Today magazine
Summer 2003 (Text)